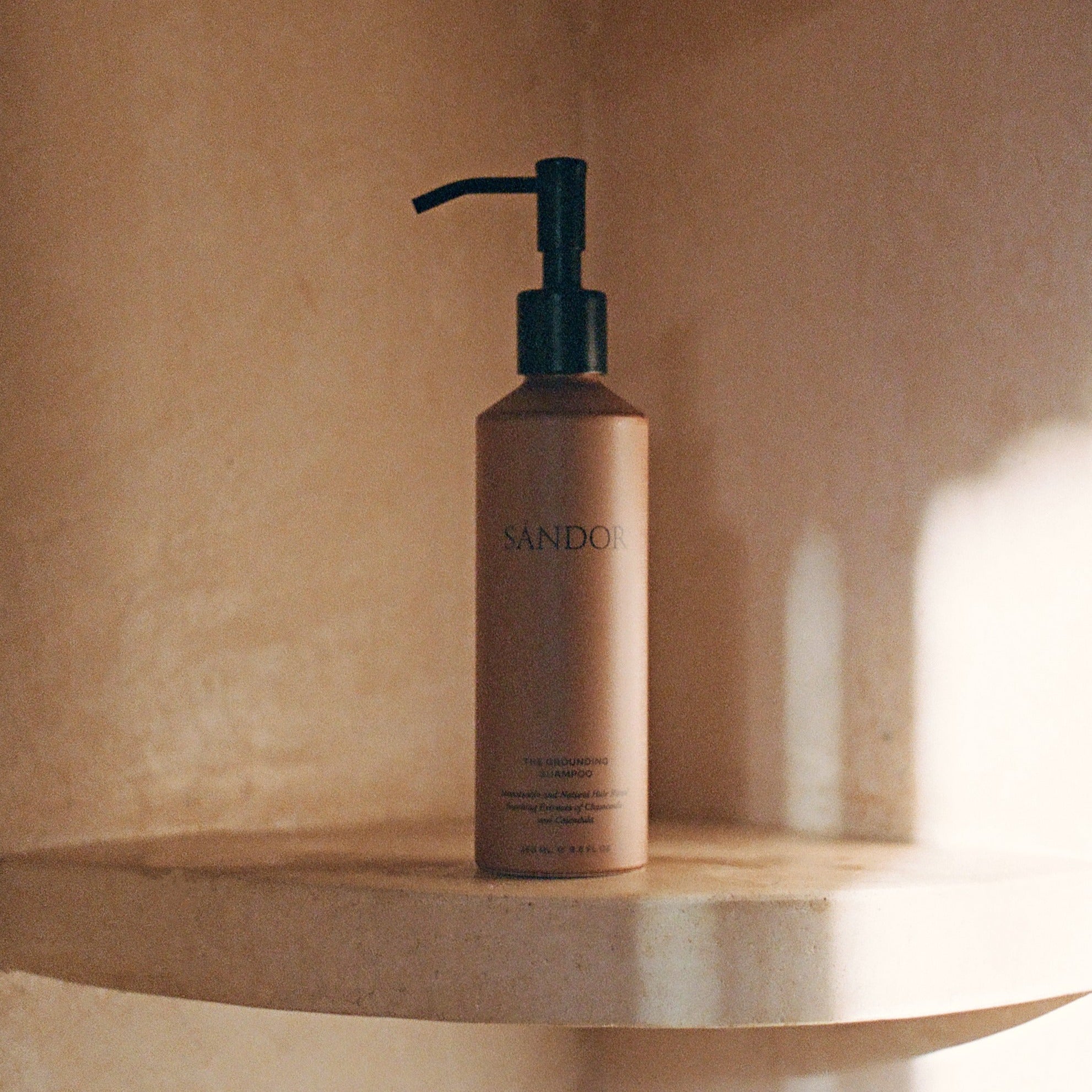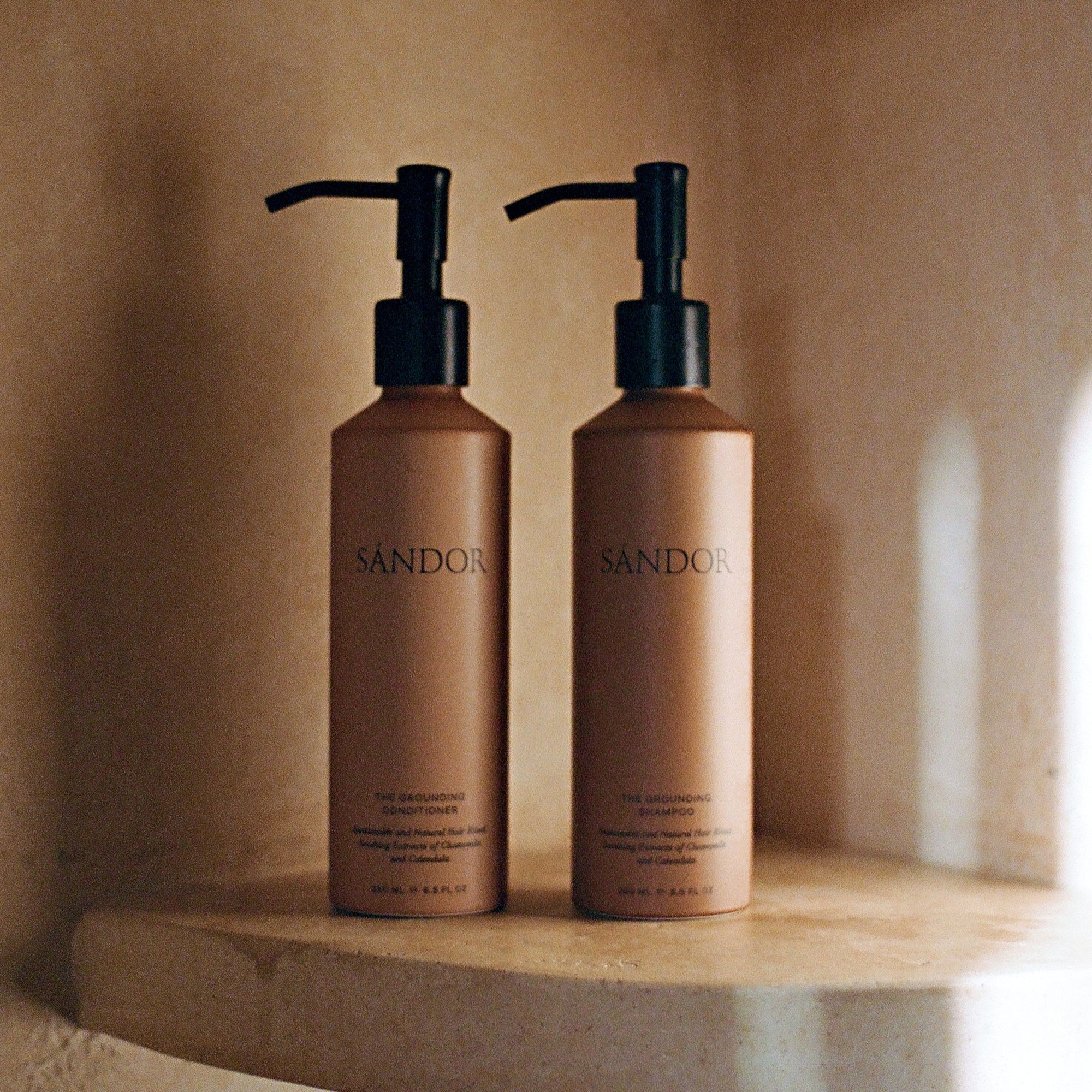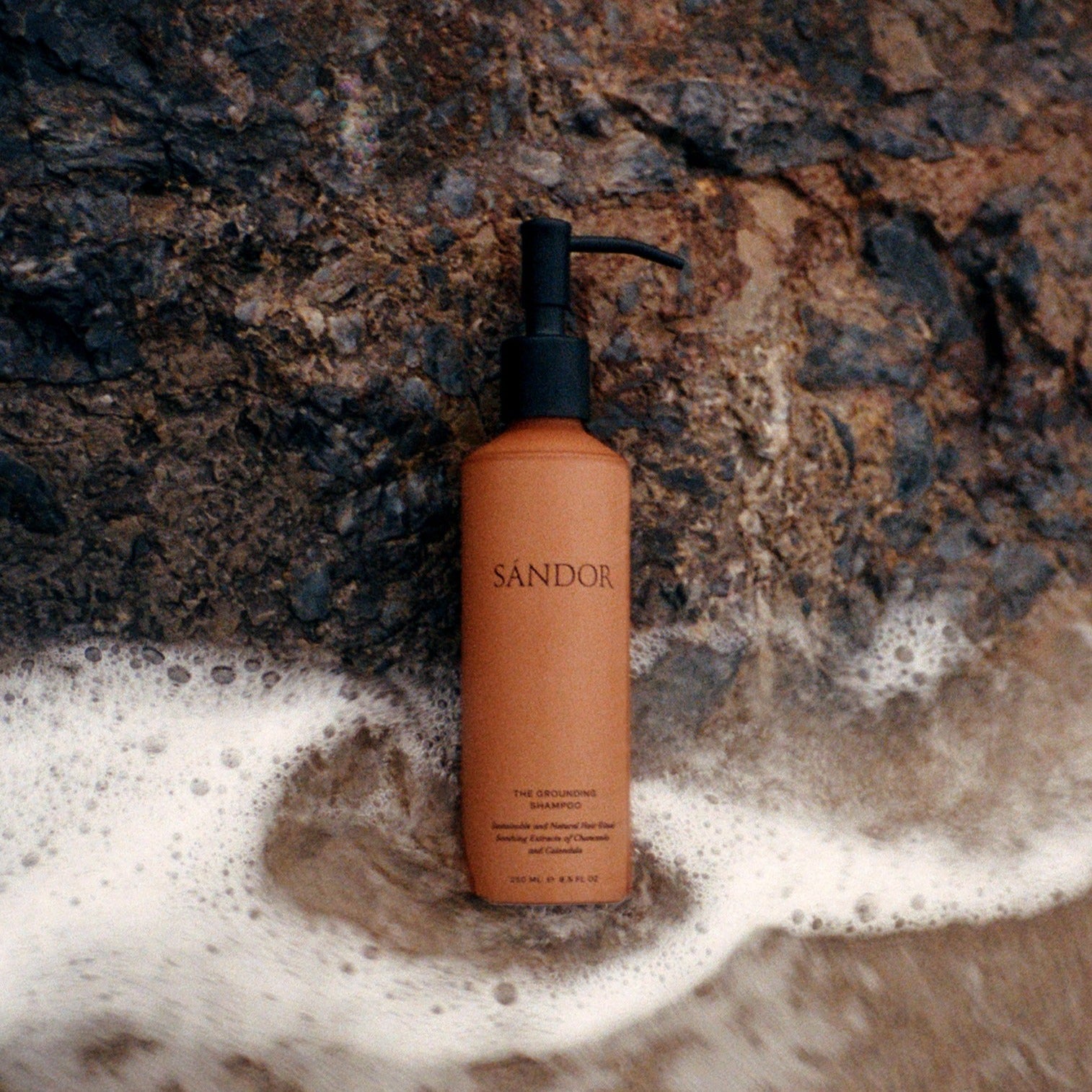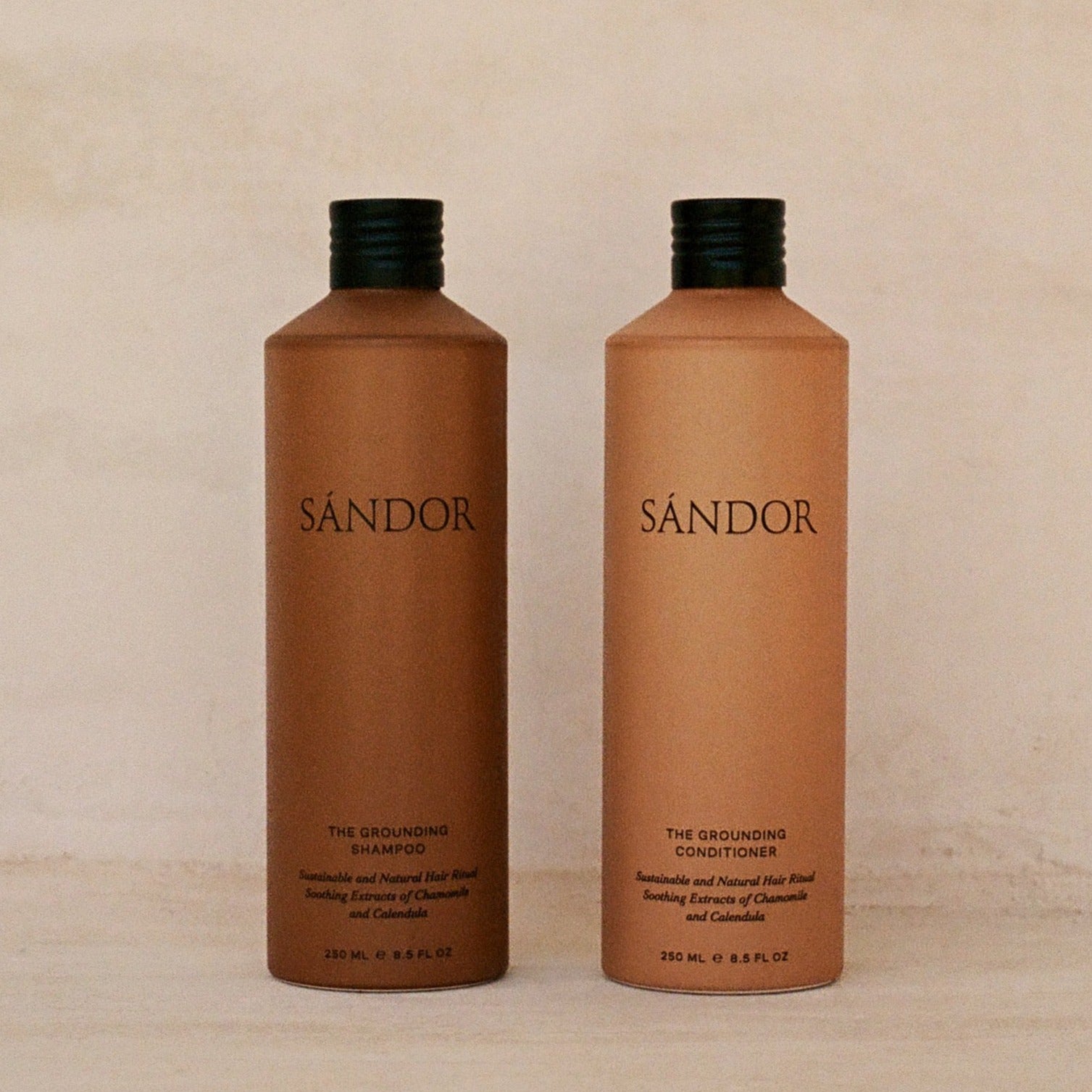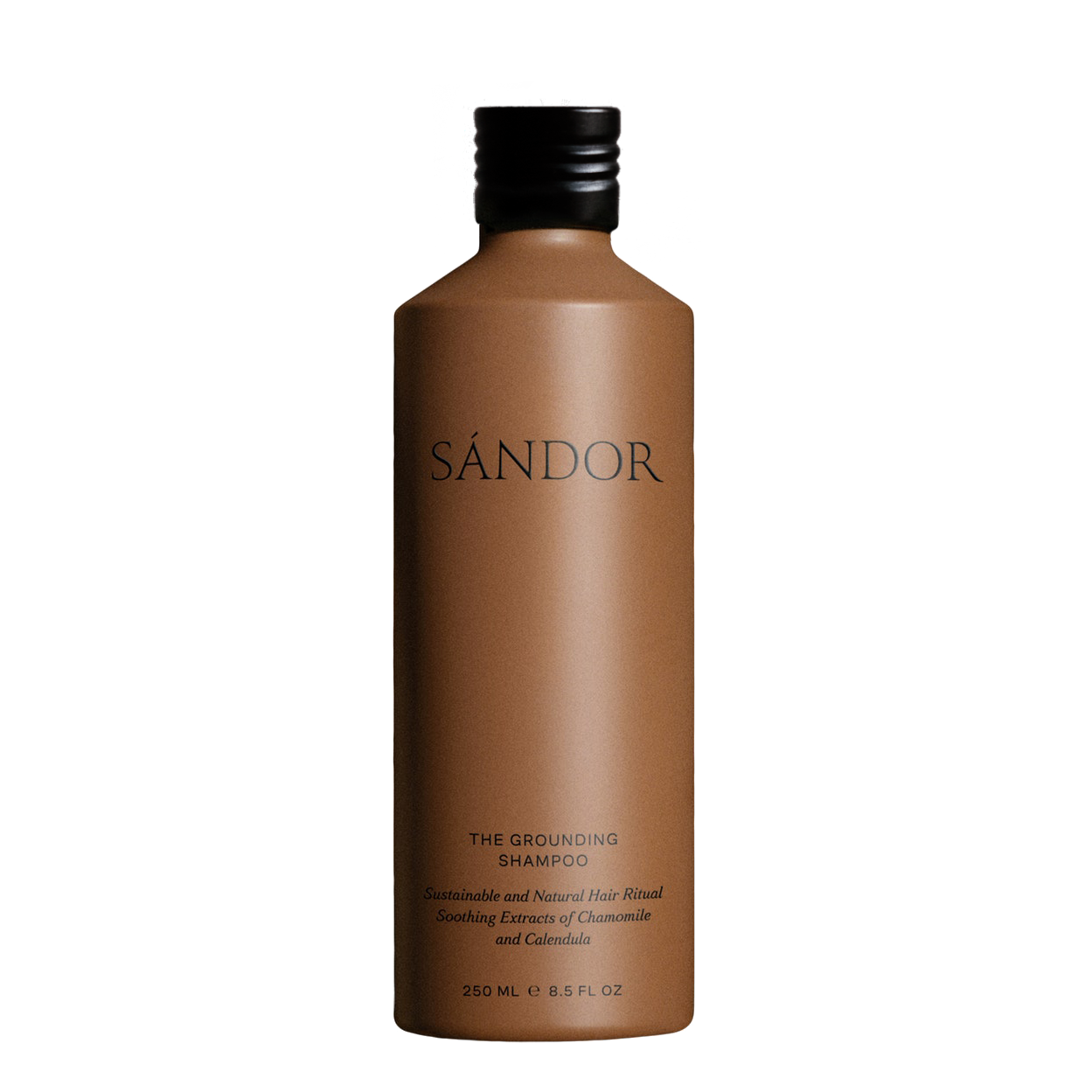 The Grounding Shampoo
Sándor
With all natural and plant-based ingredients, The Grounding Shampoo by Sandor has a pH-value to match your scalp's natural state and helps to balance its microbiome.
Organic Aloe vera, Chamomile and Calendula extracts helps to calm, soothe and balance an oily scalp.

The sulfate-free formula gently removes build-up, lifting the root for lasting volume.
TO PURCHASE: Sold with a recyclable aluminium cap so you can refill sustainably, we strongly recommend adding the Reusable pump with your first purchase.
SIZE: 250ml
MATERIAL: The bottles are made from infinitely recyclable, post-industrial recycled aluminium and the caps are aluminium too.

HOW TO USE: The Grounding Shampoo is a sulphate-free formula made with a coconut-derived cleansing agent. It gently cleanses the scalp, soothing and nourishing with skincare-quality restorative plant botanicals.

Mindfully apply a small amount of The Grounding Shampoo to the palm of your hand. Distribute evenly throughout the roots before massaging it into your scalp. Rinse and repeat.

We recommend double-cleansing your hair to remove build-up for a healthier scalp - the foundation of healthy hair.
SUSTAINABILITY: Sandor work with U.S. based manufacturers to keep their carbon footprint as low as possible. The bottles are made from infinitely recyclable, post-industrial recycled aluminium and the caps are aluminium too. With each bottle, you prevent 1.7 oz of plastic waste from ending up in landfills.

Each bottle is shipped in a vessel of mycelium and agricultural waste that grows in a week and decomposes in about 45 days, so that no trace is left behind. Sandor 100% recycled shipping boxes are printed with bio-renewable algae ink and are sealed with paper tape.

Sandor ingredients are naturally-derived, non-toxic and biodegradable so that our waterways remain as clean as possible.
FEATURES: SUITABLE FOR ALL HAIR TYPES. DERMATOLOGICALLY-TESTED. SAFE FOR SENSITIVE SKIN. No Sulphates, No Parabens, No Phthalates, Cruelty-Free, BPA Free
ABOUT SANDOR

After years of working in fashion, hairstylist Sabrina Szinay had tried countless hair products without finding one that successfully merged excellent performance and sustainable design. This ignited her journey to create Sándor, named after her grandfather.

This led her to the start Sandor with the dream to become the first luxurious, plant-based hair care brand to focus on sustainable practices. Sándor is woman-founded and owned with a dedicated attention to detail when it comes to creating zero waste packaging, leaving no waste to go to landfills.