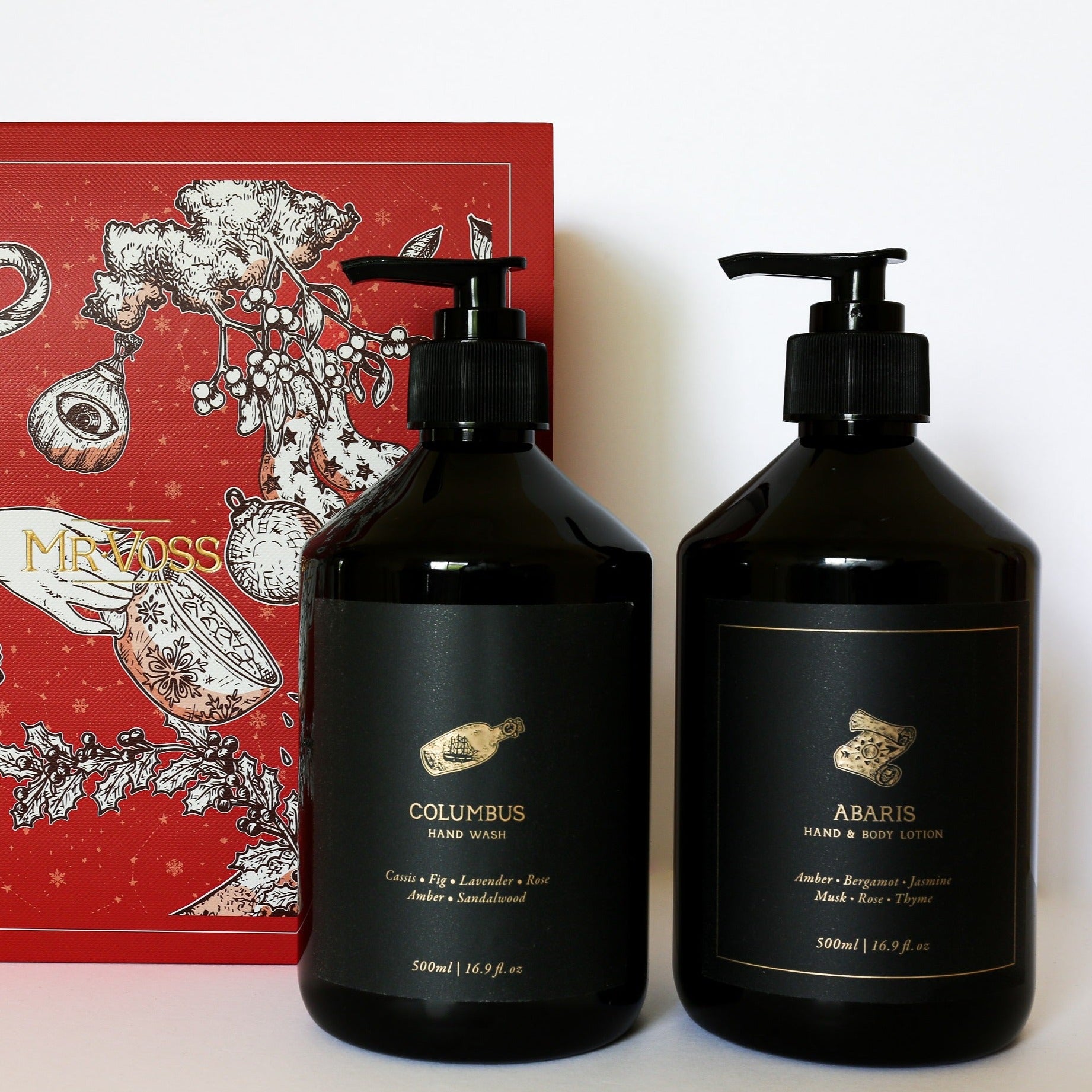 Mr Voss- Columbus Gift Pack
Simone Voss
Presented in a Mr Voss signature gift box, the Columbus hand wash and Abaris hand lotion will be a luxurious gift for the discerning receiver. 
COLUMBUS (Cassis, fig, cinnamon, clove, lavender, rose, amber, oak, musk, patchouli, sandalwood)
The air carries the scent of promise, prosperous with exotic fruit and sandalwood. As foreign soles imprint the soft, benevolent earth, Columbus charts the breadth of the continent, declaring his brave, new world home.

ABARIS (Amber, Bergamot, Jasmine, Musk, Rose, Thyme)
Only he who knows the mind and soul, knows the journey heroes go. He who seeks the divine truth, knows the future, holds the proof. Abaris flies on golden wand, healing all, yet curing none. Across the cosmos spells are spun, by an arrow shot into the sun.
SIZE: 2 x 500ml
FEATURES: Simone Voss Luxury Fragrances are unisex and can be enjoyed by everyone.
ABOUT SIMONE VOSS 

Celebrated Australian floral designer, makeup artist and event stylist Simone Voss has always drawn inspiration from beauty.

Educated at the prestigious House of Galimard in Grasse, the perfume capital of the world, she received intensive private tutelage under master instructors, perfumers and candlemakers. Honing olfactory sensitivities, chemistry knowledge, and composition capabilities; Simone's edification moved her to establish a luxury line like no other.

Crafted and hand-poured in Australia, Simone Voss candles immortalise evocative scents within a soy blend wax. Imbued with personalities unique to scent characteristics, fragrances convey the individual and complex dynamism of people.

Created to complement one another in a cohesive series; our perfumes translate the sublime possibilities of fine fragrance into an experiential form. Whether a maverick, renegade, pacifier or professor, there's a definitive Simone Voss luxury fragrance for you.