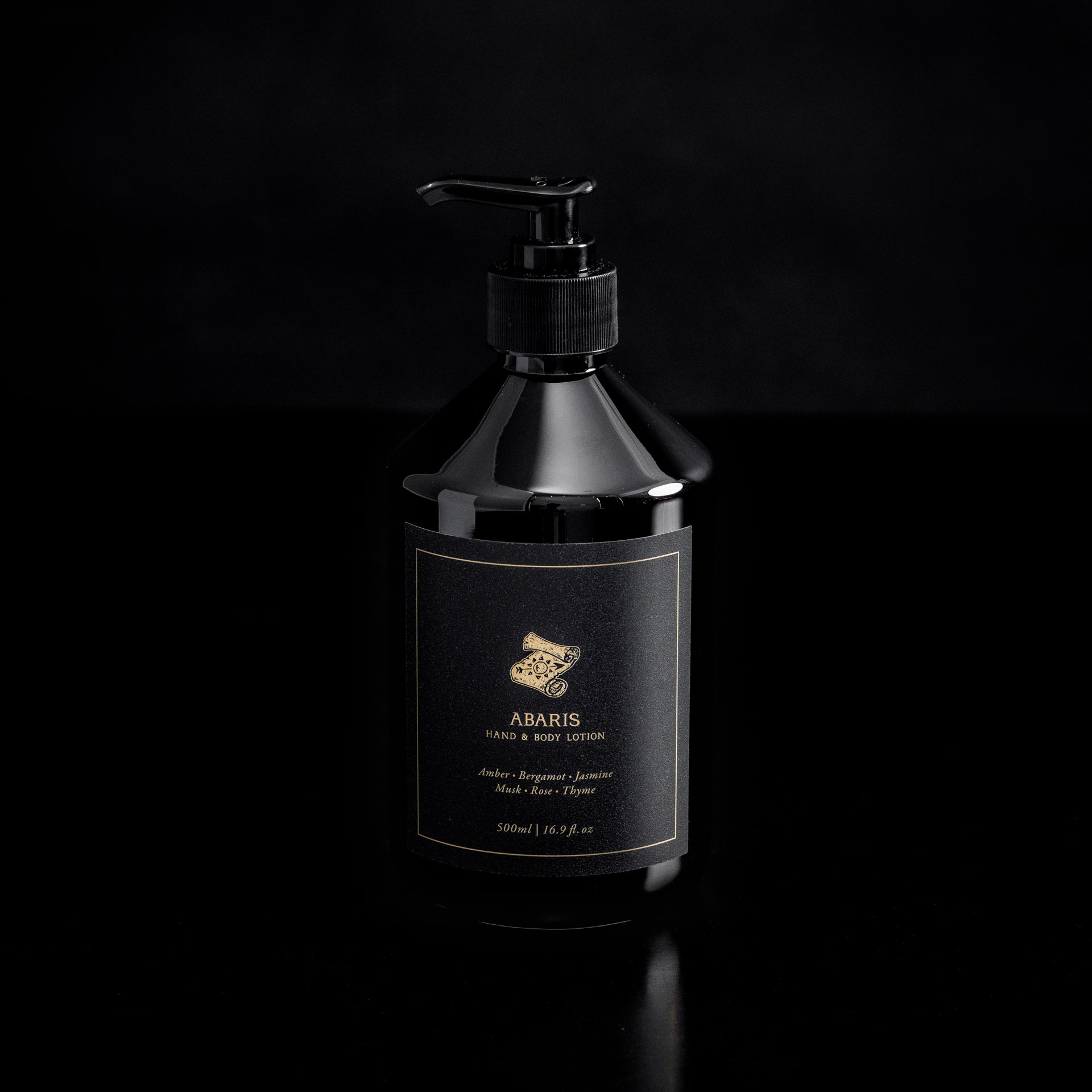 Mr Voss- Abaris Hand & Body Lotion
Simone Voss
Only he who knows the mind and soul, knows the journey heroes go. He who seeks the divine truth, knows the future, holds the proof. Abaris flies on golden wand, healing all, yet curing none. Across the cosmos spells are spun, by an arrow shot into the sun.
SIZE: 500ml
DIMENSIONS: 170mm x 75mm
FEATURES: Simone Voss Luxury Fragrances are unisex and can be enjoyed by everyone.

INGREDIENTS: Mr Voss's luxury lotion incorporates the finest ingredients to ensure quality, softness and scent.

Astragalus Root Extract:
This herbal supplement has been used in traditional Chinese medicine for centuries, and is known to boost the immune system and reduce inflammation.

Ethylhexyl Olivate:
This natural emollient (soother or softener) is made from olive oil, offering an alternative to silicones.

Green Tea Extract:
This extract is cell-protecting, anti-inflammatory, anti-aging, rich in antioxidants, and promotes the health and quality of collagen.

Natura-Tec Liquid Shea:
This shea is an excellent moisturiser – helping to retain skin elasticity with a soothing, anti-irritant formula.

Vitamin E:
This vitamin is renowned for its antioxidant properties.

FRAGRANCE: Amber, Bergamot, Jasmine, Musk, Rose, Thyme

ABOUT SIMONE VOSS 

Celebrated Australian floral designer, makeup artist and event stylist Simone Voss has always drawn inspiration from beauty.

Educated at the prestigious House of Galimard in Grasse, the perfume capital of the world, she received intensive private tutelage under master instructors, perfumers and candlemakers. Honing olfactory sensitivities, chemistry knowledge, and composition capabilities; Simone's edification moved her to establish a luxury line like no other.

Crafted and hand-poured in Australia, Simone Voss candles immortalise evocative scents within a soy blend wax. Imbued with personalities unique to scent characteristics, fragrances convey the individual and complex dynamism of people.

Created to complement one another in a cohesive series; our perfumes translate the sublime possibilities of fine fragrance into an experiential form. Whether a maverick, renegade, pacifier or professor, there's a definitive Simone Voss luxury fragrance for you.