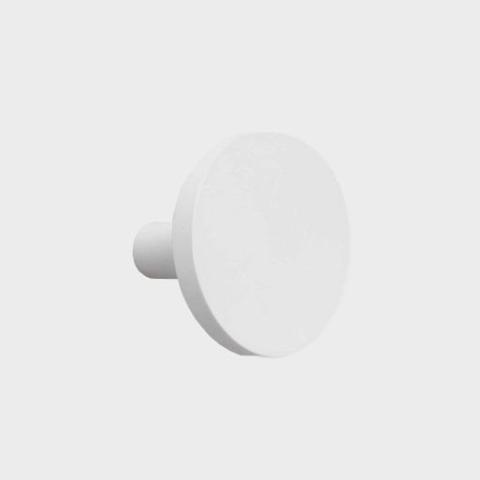 DOTS Hook- White
ex.t
Classic and stylish wall-mounted round hangers. Available in different finishes, they add an informal elegance to the ambient, whilst providing a discrete solution to hang up your outwear, objects, scarves, towels and so on. 
Designed by: Alex Bradley
Dimensions: L 6cm x Dia 8cm
Finish: White metal with white support
About Ex.t

Ex.t is an Italian design brand for bathroom furniture, accessories and lighting based in Florence. An innovative brand which mixes the international vision of its designers with the Italian expertise in the use of techniques and materials; the products are essential, multifunctional and handcrafted by Tuscan family run ateliers with special care and attention to the finer details.
We take care of every step of the production, from the selection and the development to the promotion, managing the entire process with the feminine touch thanks to a staff made up entirely of women.
We do believe in the value of tradition and the power of creativity; our mission is to realize bathroom furniture inspired by the home design world.
Ex.t products are unique pieces with a versatile soul, suitable for many living spaces, which unite the global design trend with our local artisan heritage, made with love to live long.